UK Connect client news
UK Connect share internet partnership news
At UK Connect we value our clients, and believe those we share our connectivity service with are at the forefront of our priorities. Thus we like to share weekly a selection of news pieces from our home-building partners. This week, St Modwen have undergone a brand change, Bewley Homes win a prestigious award, and new partner Vanderbilt Homes begin their journey with Site Connect.
St Modwen undergo a brand change
St. Modwen have revealed their new visual and brand identity. Described as 'contemporary and flexible, with a softer feel; the new look reflects St. Modwen's core business purpose and the shared values which underpin its new strategic direction.' Using Hemingway Design and Appetite, the new brand was created to revolve around the purpose of 'Changing places. Creating better futures.'
Coincidentally, UK Connect have just undergone a re-brand too, changing identity from Countrywide Telecoms to UK Connect. The decision was taken as a result of expanding services available to the construction industry; this caused Countrywide to feel it was more appropriate to embrace a nation-wide outlook and feel.
For more information on the brand change, visit St. Modwen's newsroom.
Bewley Homes wins category for Best First Time Buyer Home
At the highly coveted Evening Standard Property Awards, home-builder Bewley took the Best First Time Buyer Home award for its Amberley Park development in Tetbury.
Andrew Brooks, Managing Director of Bewley Homes, who accepted the prize, comments:  "The Bewley brand is synonymous with creating high quality, beautifully crafted homes in desirable areas.  We are especially proud of our Amberley Park development which combines the aesthetic beauty of traditional Cotswold homes with the practicality of 21st century living, providing a wide variety of much needed new homes for the area at a range of prices, making them highly accessible to a wide demographic, including first time buyers."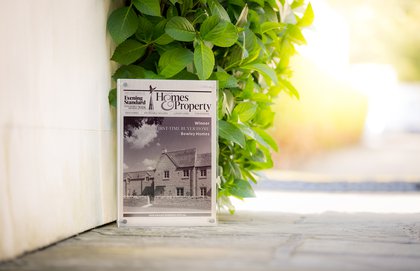 For more on this story visit the Bewley Homes website.
Vanderbilt Homes call on UK Connect
Founded in 2004 in Woodstock, Vanderbilt homes have had rapid growth and a relentless focus on quality which has created an industry-wide reputation. Vanderbilt's vision is driven by a focus on exceptional quality and design accompanied by high levels of customer service.
UK Connect were called into action at the home-builders' Gratton Chase site in Dunsfold. A coming-soon selection of houses, Vanderbilt's Gratton Chase site will be relying on Site Connect as a temporary solution gauranteed provide super-fast internet speeds where other providers can't, up until a permanent solution is delivered.